History
For ninety one years Gray's Ice Cream has been putting smiles on
the faces of ice cream lovers, young and old alike. Located at the historic Four Corners in Tiverton, Rhode Island, Gray's has been serving up delicious homemade ice cream for people from near and far. Whether they're famous or a farmer, summer beachgoer or a local, people have always visited Gray's for their favorite ice cream treat.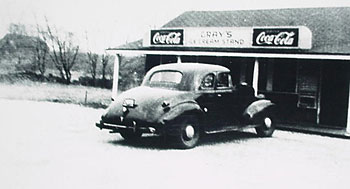 This picture above shows the original Gray's Ice Cream Parlor around 1930. Mrs. Annie Gray sold ice cream out of this house from 1923-1937. Originally, milk from farmers in Tiverton was picked up and taken to nearby Fall River, Massachusetts, where they made the ice cream and shipped it back by horse and buggy to Annie, where she sold it from the back window of her house.
A short time later, space was added for an ice cream parlor, enabling her to make ice cream on site. Her flavors included vanilla, chocolate, strawberry, and coffee. When Annie died in 1938, her daughter, Florence "Flossie" (Gray) Brow took over the business and increased the number of flavors to twelve - everyone loved her Rum Raisin and Frozen Pudding. Several years later Flossie sold the business to a couple of men who ran it until 1979. In 1981, Marilyn Bettencourt bought the historic Tiverton landmark, and to this day makes all the ice cream herself.
More than 20 years and several new flavors later, Gray's is more popular than ever. Boasting more than 40 flavors, people flock to Gray's for a scoop or sundae as part of their summer rituals or weekly treat.
Gray's continues to make all its ice cream on the premises - sometimes seven days a week during the busy summer months.
On June 1, 2002 we expanded for the first time, opening "Gray's on the Dock" in Bristol, Rhode Island. Please stop by our new location.